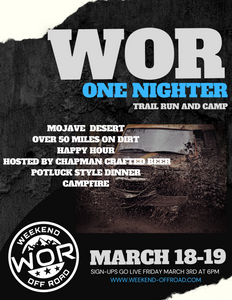 WOR ONE-NIGHTER
We are so stoked to have the WOR ONE NIGHTERS back! Twenty rigs traveled 40+ plus miles off road before arriving at camp. There we enjoyed a Happy Hour provided by Chapman Crafted Beer. A potluck dinner was next that was off the hook amazing. Home made chili, pulled pork, Korean BBG, shrimp, corn on the cob, tacos, ceviche, orange chicken and more. We were then treated with desert from Tasty Block!
If you missed this event, not to worry, we have a lot more coming!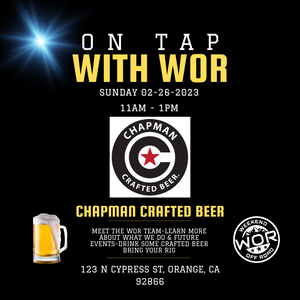 ON TAP WITH WOR
Join the Weekend Offroad Team Sunday, 02-26 from 11:00am to 1:00pm at Chapman Crafted Beer in Orange.  Bring the rig, bring the family and lets hang out.  Learn what WOR is all about and meet the team.  Enjoy some crafted beer, play games and find out more on future trips and events.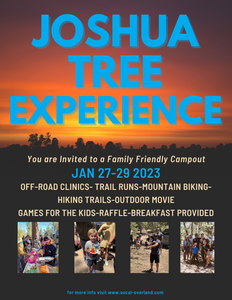 Joshua Tree Experience
This trip will go down in the history books for sure! We camped, we played, we ate, we went on trail runs, we watched a movie under the stars, we met new friends, and most of all, we built life long memories with our kids. Thanks to everyone who attended. Our next event will be posted soon.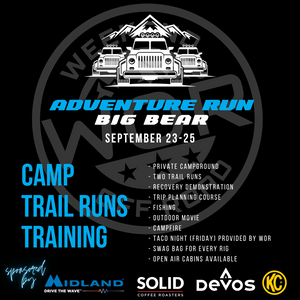 Big Bear Adventure Run Sept. 2022
Another amazing trip in the books for Weekend Offroad. We went on a guided tour of the Gold Fever Trail. We chowed down on street style tacos both Friday and Saturday night at camp. Famlies gathered around the campfire and even watched a couple movies outdoors on the big screen.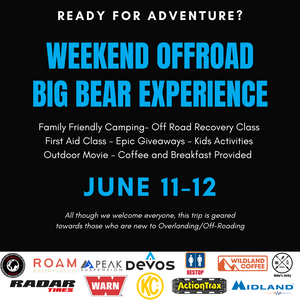 Big Bear Experience June 2022
Over 150 adults and 50+ kids joined Weekend Offroad in Big Bear. We played games, learned valuable skills, ate s'mores, watched a movies outdoors, gave away some killer items from our awesome partners and more! We are so happy to be able to share these moments with you and your families. We made life long friends as did our children. We can't thank everyone enough that came out! We look forward to the next event very soon